抜けている歯があると躊躇なく笑顔になれないことがあります。 当院では、欠損歯のない美しい笑顔でいられるよう、インプラント治療を実施しております。 まずはインプラント治療が最善の選択肢なのか検診いたしますので、お電話・オンラインでご予約をお入れ下さい.
Dental Implants in Cupertino, CA
Missing teeth can prevent you from smiling confidently. At Morita Dental in Cupertino, California, Kohei Morita, DDS, and his team use dental implants to give you the beautiful smile and full set of teeth you've dreamed of. Call the Morita Dental office or book an appointment online to find out if dental implants are right for you.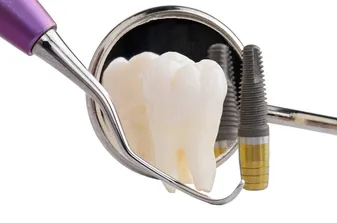 Call Morita Dental In Cupertino, CA At (408) 775-7770 Today To Schedule A Consultation With Our Dental Implants Specialist!
---
Dental Implants (インプラント)Q&A
インプラント治療とは?
インプラント治療は、顎骨に埋め込まれた人工のチタン歯根で、クラウン、ブリッジ、入歯を支えるものとなります。インプラント治療で永久歯の欠損部分に人工的な歯を蘇らせることが可能です。すでにインプラントをなさっている場合は、当院にてその修理も承ります。
インプラント治療をする利点とは?
インプラント治療をした後の利点の一部のご紹介:
歯列に欠損部分がなくなる
美しい笑顔
噛みやすくなる
より明確に話せる
より自信が持つことができる
歯が抜けていたり、虫歯が重症の場合、インプラントで歯の外観と機能を改善することができるので、自信を持って微笑んでいただけるようになります。
インプラント治療が最適かどうか?
インプラント治療またはインプラント修復治療が適切かどうかを確認するために、森田デンタルでは口腔内健康履歴の確認、歯科検診、レントゲン撮影をして、インプラントを植立するのに十分な顎骨があることを確認します。もし十分でない場合は、インプラント治療を受ける前に骨移植[ボーングラフト]治療を受けることをお勧めする事もございます。
インプラント治療はどの様に行われるか?
インプラント治療はまず、顎の骨に歯の根となるチタン製の歯根部を埋め込み、それが顎骨に付着するまで待ち、次の工程に進みます。次工程ではアバットメントと呼ばれる"ネジ頭"的部分をインプラントのネジ部分に取り付けて、型やデジタルスキャナーを使用し、歯型を取ります。それをもとに歯科技工技術者がカスタムメイドの新しい『インプラントクラウン』『ブリッジ』または『入れ歯』を作ります。それらが完成しましたら、インプラントに装着します。その後は美しい歯を見せて笑って頂けます。
インプラントのケアについて?
インプラントの適切なお手入れは、少なくとも1日2回の歯磨き、毎日のフロスに加え、硬い物は噛まない様になさる事をお勧めします。 また、6ヶ月毎の検診(検診とクリーニング)も大切です。 インプラントに損傷ができた場合は、速やかに当院までご連絡下さい。
永久歯の欠落がある方は、自信が無くなったり有意義に毎日が送れない思いをするより、どうぞ森田デンタルまで、お電話・オンラインでご連絡をくださいませ。
What are dental implants?
Dental implants are artificial, titanium tooth roots implanted into your jawbone to support dental crowns, bridges, or dentures. Dental implants replace missing permanent teeth to offer you the beautiful smile of your dreams. If you already have dental implants, Morita Dental offers implant restorations.
What are the benefits of dental implants?
Some of the many benefits you can experience after getting dental implants include:
No more missing teeth
An aesthetically pleasing smile
Easier chewing
Clearer speech
More self-confidence
If you have missing or severely decayed teeth, dental implants improve the appearance and function of teeth so you can smile confidently without feeling embarrassed.
Are dental implants right for me?
To find out if dental implants or implant restorations are right for you, the Morita Dental team reviews your oral health history, examines your teeth, and takes dental X-rays to ensure your jaw bone is sturdy enough to support implants. If it's not, they might recommend you undergo bone grafting prior to receiving dental implants.
What happens when getting dental implants?
During a dental implant procedure, which is a minor surgical procedure, your dental provider inserts titanium posts into your jaw bone and allows the implants to heal before moving to the next step in the process.
At your next appointment, they attach abutments to implant posts and take molds or digital scans of your mouth. At a dental lab, technicians make your new custom-made artificial teeth.
When your crowns, bridges, or implant-supported dentures are ready, dental experts attach them to the implants to give you a full set of natural-looking teeth and a beautiful smile.
How should I care for dental implants?
To properly care for dental implants, brush your teeth at least twice daily, floss every day, and avoid chewing on hard objects. See the Morita Dental team every six months for routine dental cleanings and exams, and call the office if your implants get damaged.
Don't let missing permanent teeth ruin your self-confidence and overall quality of life. Schedule a dental implant or implant restoration consultation by phone or online with Morita Dental today.